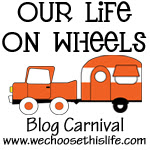 I'm joining up with one of my favorite blogs again. She's being kind and told me that even though I'm late, she'll add me in!
This month, we are discussing RV must haves. I have so many of them. I can't post them all but here's a little peek into how we run things around here
Silverware Sorter
Like most ultra light travel trailers, we are drawerless. Really, no built in drawers. It's irritating when you're trying to organize your kitchen. But, we discovered this at Target for $10 last month and it does the job!
Travel Highchair
If you have kids, you need one of these. There isn't enough room for a big high chair and this does the trick! Plus, it's easy to bring outside for picnic table meals.
Baskets
Ikea is awesome when it comes to baskets. This little shelf under my TV was too narrow for anything I found at Target. These fit perfectly!
Pink Boxes
If you're a girl, you come with girl stuff… makeup, lotion, hair stuff, etc. I organize and keep all my stuff here.
Small Washing Machine
I hate laundromats. My husband bought me one of these and it hooks up to our outdoor kitchen. It washes about 3/4 of a regular load in about 25 minutes. I hang dry, iron out wrinkles, and viola. Love this!
Outdoor Toy Box
Well, another rubbermaid container. This is for all the… well, crap my kids insist on having for outside play!
Attached Grill
This. This is my favorite thing. I watch other RVers pull out big grills or bags of charcoal but this neat little thing is attached to my outdoor kitchen, connects to the same propane tanks as my water heater and furnace, and just… works. I use this twice as often as I use the stove!
Shoe Rack
Well, flipflop rack. Who wants dirt inside?
Floor Mats
Not only do these keep us from tracking dirt inside but… well, they look pretty cute too! Plus, they are slowly teaching my 2yo boundaries. Stay on the mats, little man!
Baby Gate
Do you have a 2yo? Do you have a 2nd bedroom? You need one of these to stay sane during the time of day when you just can't watch the door to make sure he doesn't escape and take off.
Bathtub
I don't know what people with young children do without a bathtub! Sure, ours is mini but it does its job!
Baby Girl
Because she's just plain cute.